So I have been MIA from my blog for the last couple of weeks.  That is because I have been in my classroom almost everyday getting ready for kindergarten.  In those two weeks I created my favorite classroom yet! Here is a quick little tour of my Eric Carle inspired kindergarten classroom!
This is the view from the door. I really love how the blue pops!  Eric Carle table signs and animals hang from the ceiling.  I used blue as the main color with touches of green, orange and yellow as the accents.
Here's our carpet / teaching area.
See that cute blue tub at the front – its filled with our "reading glasses!"  I found these at a cute little store in Santa Fe, New Mexico this summer and I can't wait to introduce them to the class!  You could use something like these to make a statement about loving to read!
Here's one of my tables with the Eric Carle table sign (on the supply tub), name plates and name tags hanging on the seats ready for Monday!
This is my small group teaching table.  This is my first time with no teacher desk so we will see how it goes.
A glimpse into the classroom library.  Eric Carle book covers hang on the wall as the art.  Reading buddies are sitting on the window sill just waiting for a new little buddy to read with.
Here's the word wall (don't know why the picture is so yellow).  Under this sit two student desks (older kid kind with no legs) that hold our classroom computers.  They sit low to the ground so the kids can sit on the floor while working on the computer.
My number and color wall along with the kids lockers.
My focus wall ready for weekly objectives and new vocabulary.  Also contains our class rules, a Give me 5 Reminder, and a Voice Level Chart.  This little table will become either the writing center or creation station (art area).
An extra space and a table equals a center!  Magnetic letters during literacy block and science station during center time!  The blue tub hold a rock that we will be observing and the green bucket holds science tools like a magnifying glass, magnet, color wands, etc.
My shapes came from a morning "playing" session that my Mom and I had after I decided on the Eric Carle theme.  We took some tissue paper and glue and created some Eric Carle inspired poster boards.  Then I cut out the shapes.  At first I wasn't sure that I liked them, but once I got them on the wall I LOVE them.  They are so bright and add a great pop of color!  I even used my scraps of poster board to create balloons (which will be on my birthday board but it's not up yet), and some letters for a saying on my door.
This is my Eric Carle inspired behavior chart.  More on how I am going to use it in a later post.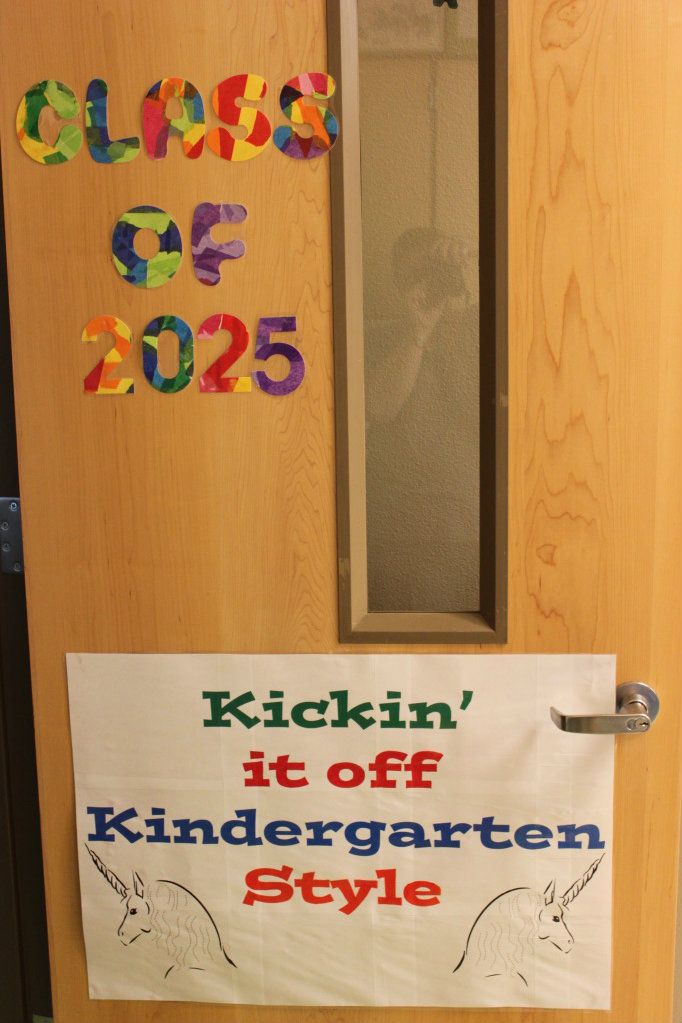 Here's my door.  I found this saying on Pinterest and loved it.  Hoping that I don't freak out some first time parents by posting their child's graduation date on the door!
So that's about it.  The room is ready, Meet the Teacher was great, and now its a countdown to the First Day of School.  13 hours and counting!  Thanks for looking.  I'd love to know about how you chose to decorate your room.